Regular price
Sale price
$17,600.00
Unit price
per
Sale
Sold out

USA Tax and Shipping Free! no surprises the price includes everything!
Share
MACH 4
- 4 woofers, unfiltered, unequalized
- 1 tweeter
- 95 dB@1W/1m
- 8 Ohm
- 131*26*25 cm
- 27Hz-20kHz
- S.R.T. (Semi Resonant Tube)

- Grandinote's warranty of 5 years
AVAILABLE IN GLOSSY, MATT AND BLACK VERSIONS


Grandinote Massimiliano Magri  explains the SRT technology
It's a lot of years that we tryed to get a great sound from crossover-less speakers.
We have understood that the only way to get this is to use drivers that don't exist...
We tested a lot of full-range and extended-range drivers:
always the sound was "nasal", annoying in the high frequencies.
These problems are caused by the high frequencies brack-up of the drivers.
By the crossover, these brack-up are killed, but the crossover also kills a lot of musicality.

Our solution is to use a "mechanical" crossover.
We optain this by a special treatment behind the drivers membranes.

This treatment kills brack-up, without steal musicality.
Finally we have our drivers to use without crossover:
the best voice that I listened from speakers.

This treatment also modify drivers paramters, expecially the Fs and the Qts.
We created drivers with low Fs and high Qts.
These parameters are perfect for transmission line and other perticular configurations.
We developed a solution is in the middle between bass reflex and transmission line.
Our cabinet is like a tube, with a larg downward port.
This tube is too short for a transmission line: it's another thing!
We call this solution "Semi Resonance Tube": S.R.T.

In this way, we have very deep, tight, fast basses, very different that all other speakers that I listened.
View full details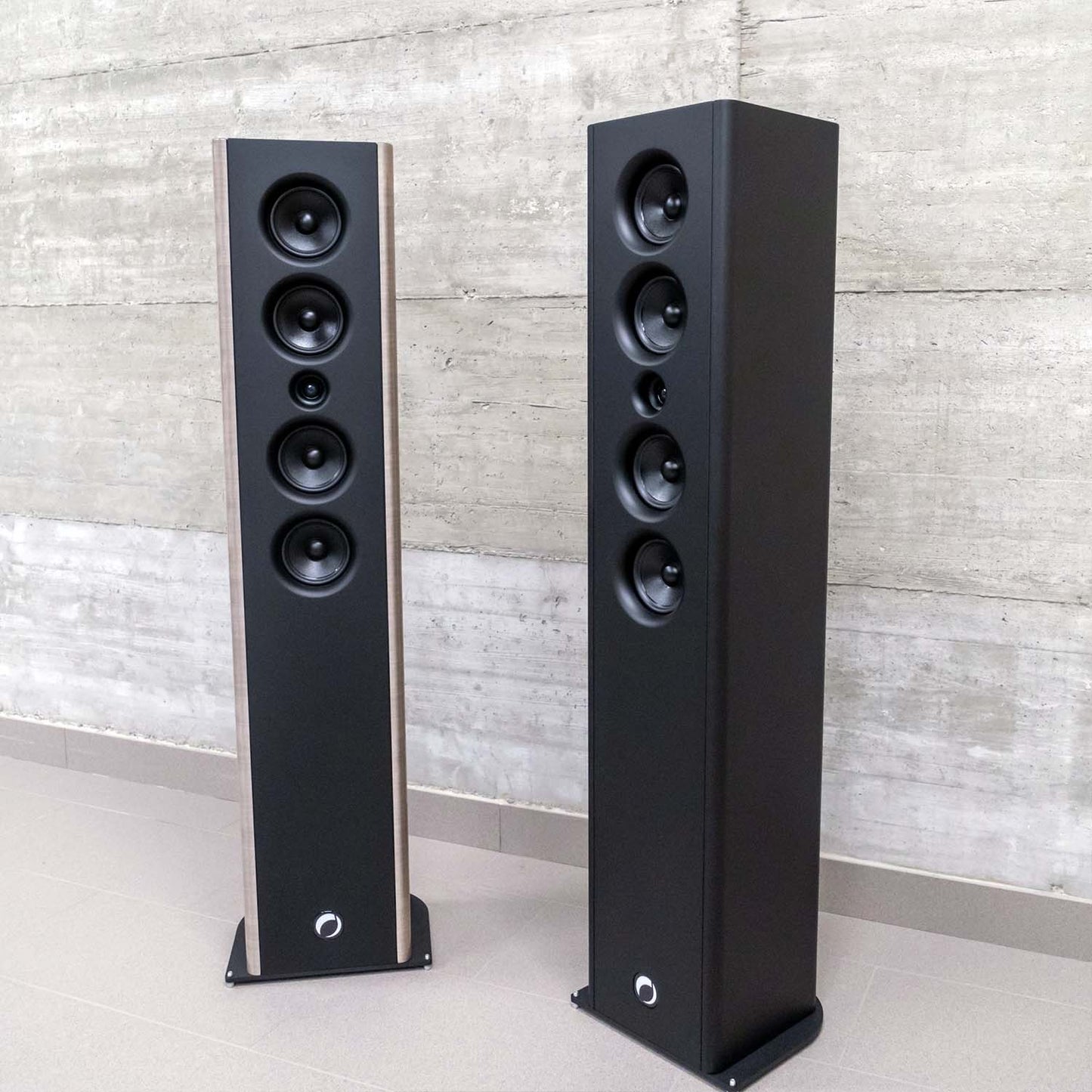 BUY & TRY
Buy and evaluate our products for 30 days!
If you are not satisfied, you can return it to us and we will refund your purchase. The cost of the return shipping is to be paid by the customer. Also the import/export taxes outside EU will not be refundable. This operation can only be implemented for countries and states where our distributors and dealers are not present. For more infos consult the Terms & Conditions.
Terms & Conditions